Crane is very commonly used construction equipment. Depending on the types of work, there are different types of cranes used in construction. Now, we will discuss the top 10 most commonly used crane types in detail. Here's the list of the most commonly used cranes for industrial purposes. So, let's move on.
Static Crane

Tower Crane.
Hammerhead Crane.
Level Luffing Crane.
Telescopic Crane.

Mobile Crane

Rough Terrain Crane.
Truck-Mounted Crane.
Crawler Crane.
Aerial Crane/Flying Crane.
Rail Road Crane.
Floating Crane.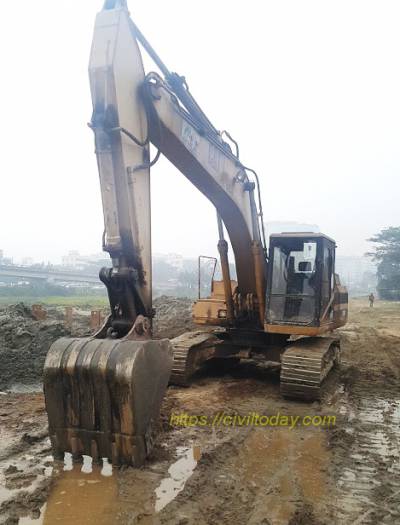 If you are wondering about what type of crane to be used for your upcoming project, here, we present the pros and cons of the different types of cranes. Let's discuss the advantages and disadvantages of the top 10 most commonly used types of cranes.
Static Crane
Static cranes, as their name suggests, doesn't show much movement. They are classified by the fact that they don't move during their period of use from one place to another. Mobile cranes are so easy to use and move, but the importance of static cranes has not decreased a bit.
Some of the types are listed below:
Tower crane
Self-erecting crane
Telescopic crane
Hammerhead crane
Level luffing crane
Gantry crane
Deck crane
Jib crane
Bulk-handling crane
Loader crane
Stacker crane
Tower Crane
Tower cranes are mostly used cranes in the world. It is the form of a balance crane that is fixed to the ground and also attached to the sides of structures. When it comes to the construction of tall buildings, they are by far, the most used type of crane.
The largest cranes in the world are Tower Cranes. Moreover, they are used for transporting the heaviest and largest loads on the earth.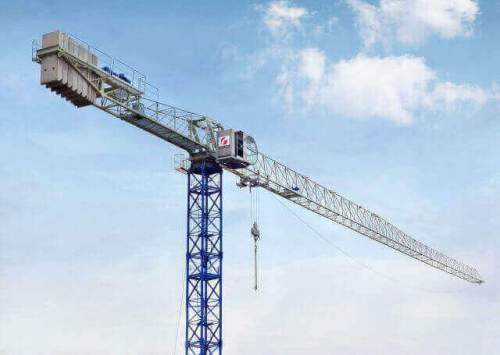 Advantages of Tower Crane
The advantages of tower crane are:
Tower cranes surpass the loading and lifting capacity of any other crane in the world.
Their height capacity can't be matched by any other type of crane.
They have incredible stability and can bear the hardest tasks.
Disadvantages of Tower Crane
However, tower cranes have some disadvantages too. These are:
These cranes are very expensive and they require time, effort and money to be shifted from one area to another.
They have a high maintenance cost for repairs and depreciation.
They have a major labor-intensive to install.
Industrial construction sites can be highly benefited by the use of this type of crane. However, considering the cost and efficiency of tower cranes, the best option is to hire them.
Hammerhead Crane
The Hammerhead crane or the "Giant cantilever" crane is a fixed jib crane that provides a so-called "racking" motion. The design of this type of crane started in Germany. Hammerhead Crane was used in battleships, for installing large pieces like armor plates and gun barrels.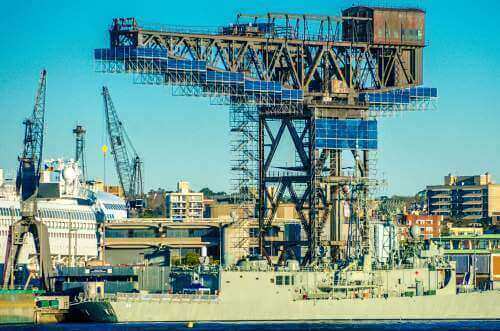 Advantages of Hammerhead Crane
Following are the advantages of Hammerhead Crane
Hammerhead Crane is a static crane with a fixed location.
They are often used for a specific purpose.
Disadvantages of Hammerhead Crane
The main disadvantages of Hammerhead Crane are given below:
They are difficult to set-up.
As they are fixed to the surface, Reinstallation of such a huge structure can be a bit problematic.
They are only used for mega construction purpose.
However, some modern hammerhead cranes incorporate a technique to move and reposition the suspended load, adding to the versatility of Giant Cantilever cranes.
Level Luffing Crane
Level Luffing Crane has a special feature, which is the crane hook is designed to stay at a constant level. So, up and down movement of the crane will only move the jib arm towards or away from the base of the crane.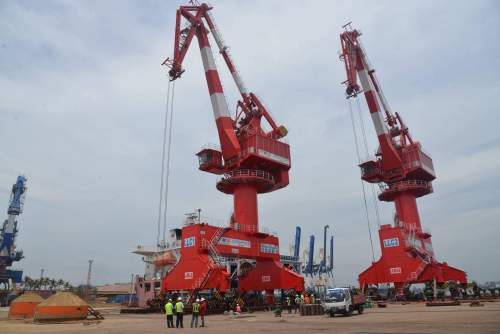 Advantages of Level Luffing Crane
Here, we present the advantages of level luffing cranes:
The crane can be set to operate at a fixed level, relative to the ground.
The load materials can be loaded with great precision due to its features.
It allows the jib and the load to stay on the construction site ensuring safety to the general public.
Disadvantages of Level Luffing Crane
The disadvantages of the level luffing crane are:
It takes more time to perform movements necessary to lift an object.
They affect the performance and economy of the construction site.
In conclusion, the level luffing Crane, like all other static cranes, has its pros and cons, so while designing your project, you must choose the right type of crane available.
Telescopic Crane
Telescopic Cranes are another form of cranes that are employed to transport heavy goods, consisting of a large boom. The boom has got tubes fitted inside with each other which increases the height with the help of tubes through a hydraulic mechanism.
Telescopic Cranes are the best type of cranes when it comes to transferring objects to a high place. They offer one of the best servicing possible in terms of ports.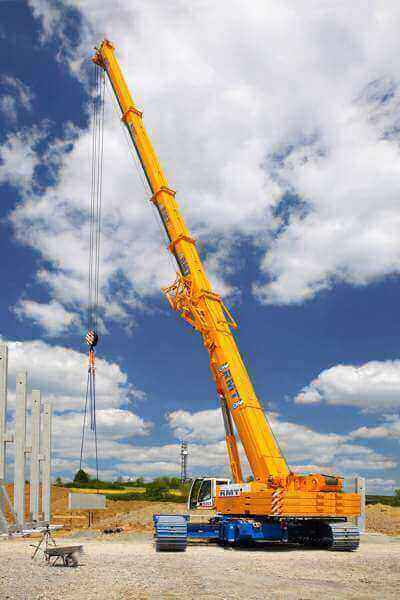 Advantages of Telescopic Crane
They can adjust the height according to the place.
They can be used in rescue operations due to their adjustment of height.
They are mobile in the sense that they transport goods in a flexible manner.
Cargo embarking and disembarking takes place in any port with this type of crane easily.
They move loads with excellent precision.
Disadvantages of Telescopic Crane
The only disadvantage of the telescopic crane is stated below
Telescopic Cranes are not automatically mobile cranes.
But they can be often truck-mounted although, not truly mobile. The compactness of these cranes makes them suitable for different mobile applications like short-term construction projects, rescue jobs, lifting boats in and out of the water, etc.
Mobile Crane
A mobile crane is a very simple cable-controlled machine with a telescopic boom attached to its platform. It comes in different shapes and sizes and can be classified into different types. There are more than a dozen types of these cranes. Some of them are listed below:
Vehicle-mounted
Sidelifter
All Terrain
Telescopic Handler
There are many lifting operations, where using a tower crane is not practical. The operations such as statue lifting or indoor lifts, can't be executed by the static tower cranes. Therefore, the best solution to such a construction problem is, Mobile Crane.
Mobile cranes are faster to set up. The biggest advantage of a mobile crane is the flexibility and ability to access in areas where static crane can't reach. Mobile Crane doesn't require a lot of space. Mobile crane is a cheaper option of the types of major types of crane, so it is a cost-efficient option.
The world's tallest Mobile crane is also the world's strongest! The Liebherr LTM 11200-9.1 can lift up to 1,200 tons (equivalent to 12 Blue Whales), which makes it the world's tallest and strongest mobile crane.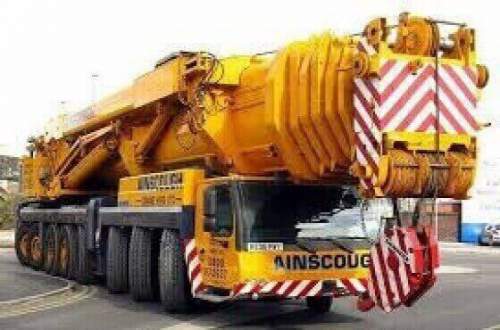 Rough Terrain Crane
The rough terrain crane is the subclass of the hydraulic crane group. It is a self-propelled crane mounted on four rubber tires. They are specifically designed to operate on off-road and rough surfaces.
They are usually used for building bridges, operation in power and chemical plants and in large-scale projects.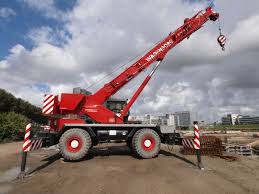 Advantages of Rough Terrain Crane
Below are the advantages of rough terrain crane:
The design of the rough terrain crane makes it capable of maneuvering over surfaces that limit the movement of the rubber wheels.
Rough Terrain Cranes have a wider wheelbase and a larger engine than truck cranes
The wider center of gravity makes it far more stable than any other type of crane.
The tires are larger for better control
All-wheel drive and steering make it highly effective to move on the rough surface.
Disadvantages of Rough Terrain Crane
The main disadvantages of Rough Terrain Crane are:
One major drawback of using Rough Terrain Crane is that it can't be driven on public highways along with other traffic.
The lowered boom on the crane tends to block the driver's right and left view, leading to many serious accidents.
These cranes are powered by a single engine with hydraulically operated winches. The engine powers both the undercarriage and the crane.
Truck-Mounted Crane
A crane mounted on a Truck provides the mobility for these types of crane. It is basically a self-propelled loading and unloading machine which consists of rotating cantilever boom. It uses the same engine for the undercarriage and the crane.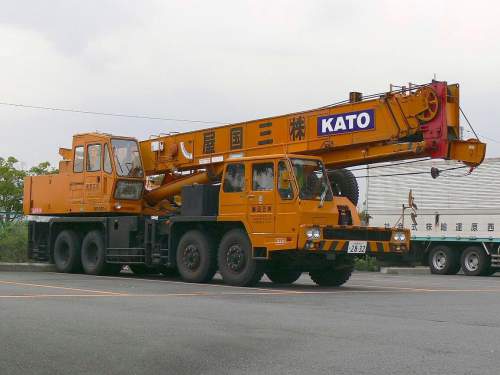 Advantages of Truck-Mounted Crane
Following are the advantages of Truck-mounted Crane:
It can travel on highways itself.
Its features make it easy to move and less expensive.
They can be rotated up to 180 degrees, sometimes the expensive ones can even rotate 360 degrees!
They can be used for multiple purposes.
It can be used for loading and unloading of motor Truck rolling stock.
It is highly flexible.
Truck-Mounted Cranes travel nearly at 65 km/h.
Disadvantages of Truck-Mounted Crane
The disadvantages are:
It moves at a low-speed around sites but is needed to be transported on the sites.
They are not usually used for longer hire periods.
Crawler Crane
A Crawler Crane is a type of mobile crane that moves on tracks which are called crawlers. So, from here the name "Crawler" comes from. They are available with either a telescopic or lattice boom. It can move around the site without a set-up.
The tracks provide stability enabling the crane to operate without the help of outriggers.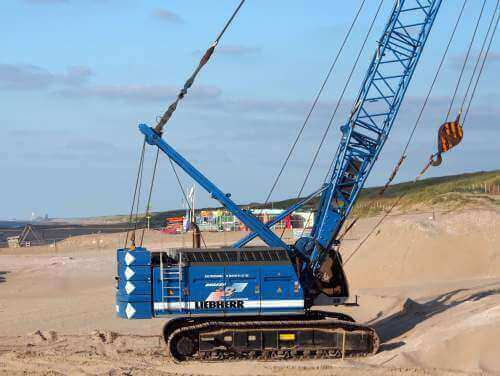 Advantages of Crawler Crane
The advantages of Crawler Crane are:
Crawler Crane can move on any surface of the earth, even it can move on a soft surface due to its crawlers.
It can be used on unprepared sites as its load is distributed in a greater area.
Crawler Crane is powered by one engine and may consist of two or more cable operated drums
Disadvantages of Crawler Crane
The disadvantages of Crawler Crane are:
Because of the heavy weight of the Crawler Crane, these machines move very slowly.
It can't be moved from one site to another easily.
It is not cost-efficient due to its features.
But it can be moved with trucks, which can eventually save some money and make it cost-efficient.
Aerial Crane/Flying Crane
An Aerial crane or flying crane is a helicopter that is used to lift heavy loads. They are also called "Sky Cranes". The most common use of the aerial crane is in the logging industry to lift large trees out of remote areas where the land is unsuitable for the use of ordinary cranes.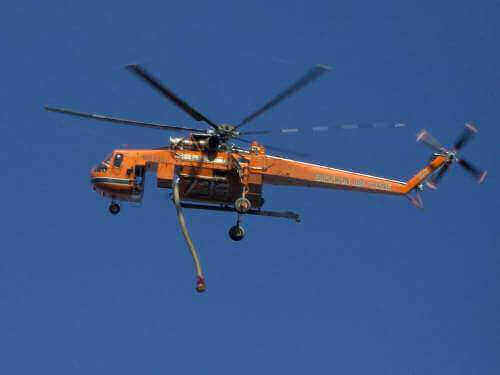 Advantage of Aerial crane/Flying Crane
The advantages are
They are capable of reaching anywhere and everywhere as helicopters fly.
They can lift anything from boats, cars to swimming pools, etc.
They are most convenient to lift loads to high rise buildings.
After a disaster, they can be used to lift goods and unload them to remote areas for rescue purposes.
Disadvantages of Aerial crane/Flying Crane
The major disadvantages are listed below
Overloading can lead to serious accidents
They are quite expensive and only used for special purposes.
In the near future, Drones might replace Aerial cranes, which can cause revolutionary changes in the design of aerial cranes.
Railroad Crane
Railroad Cranes move on railway tracks. They are mainly used for construction and repair of railway tracks and their maintenance. They have three primary purposes:
Freight handling
Permanent way maintenance
Accident recovery work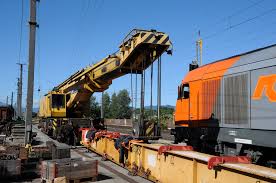 Advantages of Railroad Crane
The benefits of railroad cranes are:
They are very efficient and safe as they use tracks to move.
The loading capacity is between 15 tons to 250 tons.
They have a rapid self-propelling system.
Disadvantages of Railroad Crane
The only disadvantage of Railroad Crane is
They can't travel on roads or any other place, other than railways due to their flanged wheels.
Floating Crane
Floating Cranes are ships equipped with a crane that is specialized in lifting heavy loads. They are typically used for offshore construction. They are used in bridge building and port construction, but they can also be used for lifting awkward and unconventional loads from on and off the ship.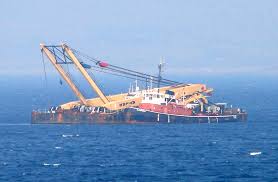 The advantages of Floating Crane
The advantages of the floating crane are
They can be used in rivers, ports, protected water, coastal waters, and on the open sea.
They can be used to load or unload sunken ships from the water.
They have a lifting capacity of approximately 9000 tons.
They are easily portable to water.
Disadvantages of floating crane
When it comes to floating cranes, the disadvantages are far less than the advantages. The only disadvantage of floating cranes is:
They are fixed and thus, cannot be rotated.
The world's largest floating crane ship is SSCV Thailf. It has a lifting capacity of 14,200 tons. The largest cranes revolving cranes can also be found on the SSCV Thailf. The largest floating crane vessels are usually semi-submersible types as they have increased stability.