The total station is a useful instrument in modern survey technology. It improves the survey works by any means. Accurate calculation with the help of a computerized system installed in this device makes it one man army. You can do surveys with this one device easily and effectively. It can give you more accurate results than any other device. So surely Total station is a great innovation of the modern era.
What is Total Station?
It is an electronic or optical instrument used to measure horizontal and vertical angles as well as the sloping distance of the object to the instrument and an onboard computer to collect data and perform triangulation calculations. It is an electronic transit theodolite integrated with electronic distance measurement (EDM), microprocessor, electronic data collector, and storage system. It is also known as total station theodolite.
Total station survey
A tiny solid-state emitter located within the instrument's optical path generates a modulated infrared carrier signal, which is then reflected by a prism reflector, or the item being surveyed to determine distance. The computer in the total station reads and decodes the modulation pattern of the signal. By sending and receiving signals at various frequencies and counting the integer number of wavelengths to the target for each frequency. The distance is calculated. It gives the slope distance from the instrument to the object. The 2.8 km to 4.2 km range varies with automated target recognition. It can accurately measure 5 mm (about 0.2 in) to 10 mm (about 0.39 in) per km measurement.
It can measure both horizontal and vertical angles. We can measure it in shorter times like 2 to 6 seconds. Reference directions is important here which is the selected zenith point in a vertical angle and the conventional point in a horizontal angle.
If a direct line of sight can be established between the two points, the total station can be used to identify the coordinates of an unknown point in relation to a known coordinate. Measurements of angles and distances are made from the total station to the points being surveyed, and trigonometry and triangulation are used to determine the coordinates of the surveyed points in relation to the location of the total station. A complete station must be set up over a known point or with a line of sight to two or more points with known locations to do a line of sight observations, free stationing is being called. Because of this, some total Stations also feature a Global Navigation Satellite System receiver and can determine coordinates without a direct line of sight. However, GNSS measurements might need to be taken for longer periods of time and have vertical axis precision.
Types of Total Station
Usually, these three types are used in the total stations given in the chart and their operations.
| | | | |
| --- | --- | --- | --- |
| Types | Vertical angle | Horizontal angle | Slope distance |
| Manual | manually | manually | electronically |
| Semi-automatic | digitally | manually | electronically |
| Automatic | Electronically | Electronically | Coordinate system |
Besides, there are many other types of total stations as well. The total handheld station is the most popular form which uses an internal or external antenna for photogrammetric processing. The mobile total station gives us mobility attached to a motorized platform. The fixed station provides services from a stationary point. Scanning Total Stations, Robotic Total Stations, Autolock Total Stations, prism total stations, and Total Mechanical Stationary are also kinds of total stations.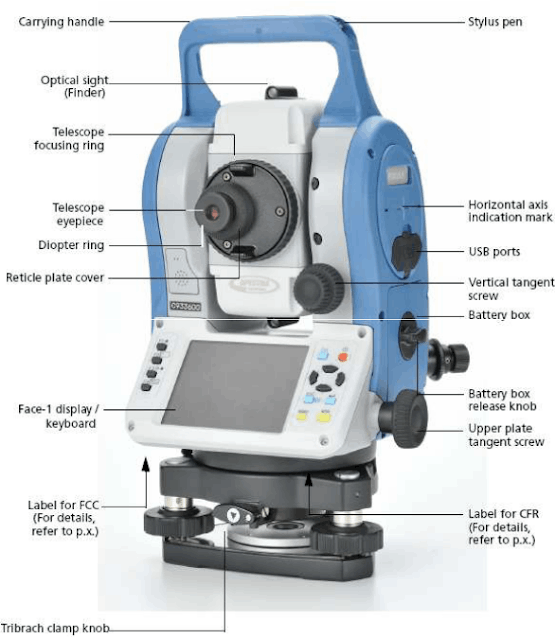 Parts of the total station
Handle
Handle securing screw
Data input/output terminal (Remove handle to view)
Instrument height mark
Battery cover
Operation panel
Tribrach clamp (SET300S/500S/600S: Shifting clamp)
Base plate
Leveling foot screw
The circular level adjusting screws
Circular Level
Display
Objective lens
Tubular compass slot
Optical plummet focusing ring
Optical plummet reticle cover
Optical plummet eyepiece
Horizontal clamp
A horizontal fine-motion screw
Data input /output connector (Besides the operation panel on SET600/600S)
External power source connector (Not included on SET600/600S)
Plate level
Plate level adjusting screw
Vertical clamp
A vertical fine-motion screw
Telescope eyepiece
Telescope focusing ring
Peep sight
Instrument center mark
Components of total station
The keyboard is an essential part of the total station in the microprocessor section which contains switching keys, command keys, lighting keys, power keys, and so on. In the database, data collects and stores information. Reflectors are using beams to take the estimations. It is a constructed reflecting crystal that has the shape of squares. The Windows system is installed in the total station. Electronic displays are responsible for showing the different values. Around 4000 points can be stored in an electronic book. This electronic book data can be transferred to a personal computer. The control panel just adjusts all types of buttons. It can be modified by our own preferences. It is moisture-proof with different color switches. Rechargeable nickel–cadmium batteries have been used that can power up 2 to 10 hours. Some total station has two control panels and a power saver.
Capabilities of total station
The average of multiple angles is measured
The average of multiple distances is measured
Horizontal distances
Distances between any two observed points
Elevations of objects on the surface
Three coordinates of the unknown observed points
Working principle of the total station in surveying
Microwaves and infrared signals are emitted from the total station which determines the distance between the points. Coordinates and angles are determined by the triangle and trigonometry methods.
Instrument manufacturers
Carl Zeiss
GeoMax, part of Hexagon AB
Hewlett Packard
Nikon, part of Trimble
Leica Geosystems, part of Hexagon AB
North Group LTD
Sokkia, part of Topcon
TI Asahi Co. Ltd, sold under the Pentax brand
Topcon
Trimble Navigation Ltd.
Wild Heerbrugg AG, part of Leica Geosystems
CST/Berger
Advantages of Using Total Stations
You can quickly set up the instrument on the tripod with the help of laser plummet. It can be used as a multidisciplinary instrument.
Working capability is high as well as time is to be saved.
There are no recording or writing errors.
It gives more accurate measurements than any other device.
Natural language can be supported.
We get graphical views of lands and plot as well as computerized old maps.
Computation onboard area is used to calculate the area.
Integrated Database is used which can be transferred to a Personal computer.
Multiple surveys can be made by one set-up location.
Disadvantages of total station
Buying cost is higher
While the operating errors may be unseen
Highly skilled operators required
Low battery life
Leveling instruments can cause problems with elevation
Conclusion
The total station is a revolutionary improvement in surveying sectors. It makes the surveyor more relaxed than any other device. It can facilitate the total work process of any device. Digitally having data gives the accurate result of an area that saves time and error is reduced. We can rely on the value shown because of database integration. Manually checking is lessened. One can do the whole survey work with the help of one total station which brings down the instrument hassle.
Keywords: total station parts and function, total station instrument, total station prism, surveying prism, station in surveying, total station survey equipment, electronic total station, gps total station, components of total station, total station machine, robotic total station, total station price, total station theodolite, total station surveying price, reflector less total station, what is total station survey, total station equipment, total station tripod, total station surveying instrument, total station and gps surveying, total station used in surveying, total station laser, total station reflector, leica total station, leica ts15, leica ts16, leica ts06, leica total station price, topcon total station, sokkia total station, trimble total station, trimble s5, nikon total station,